Posted on
By Gravity Sorcerer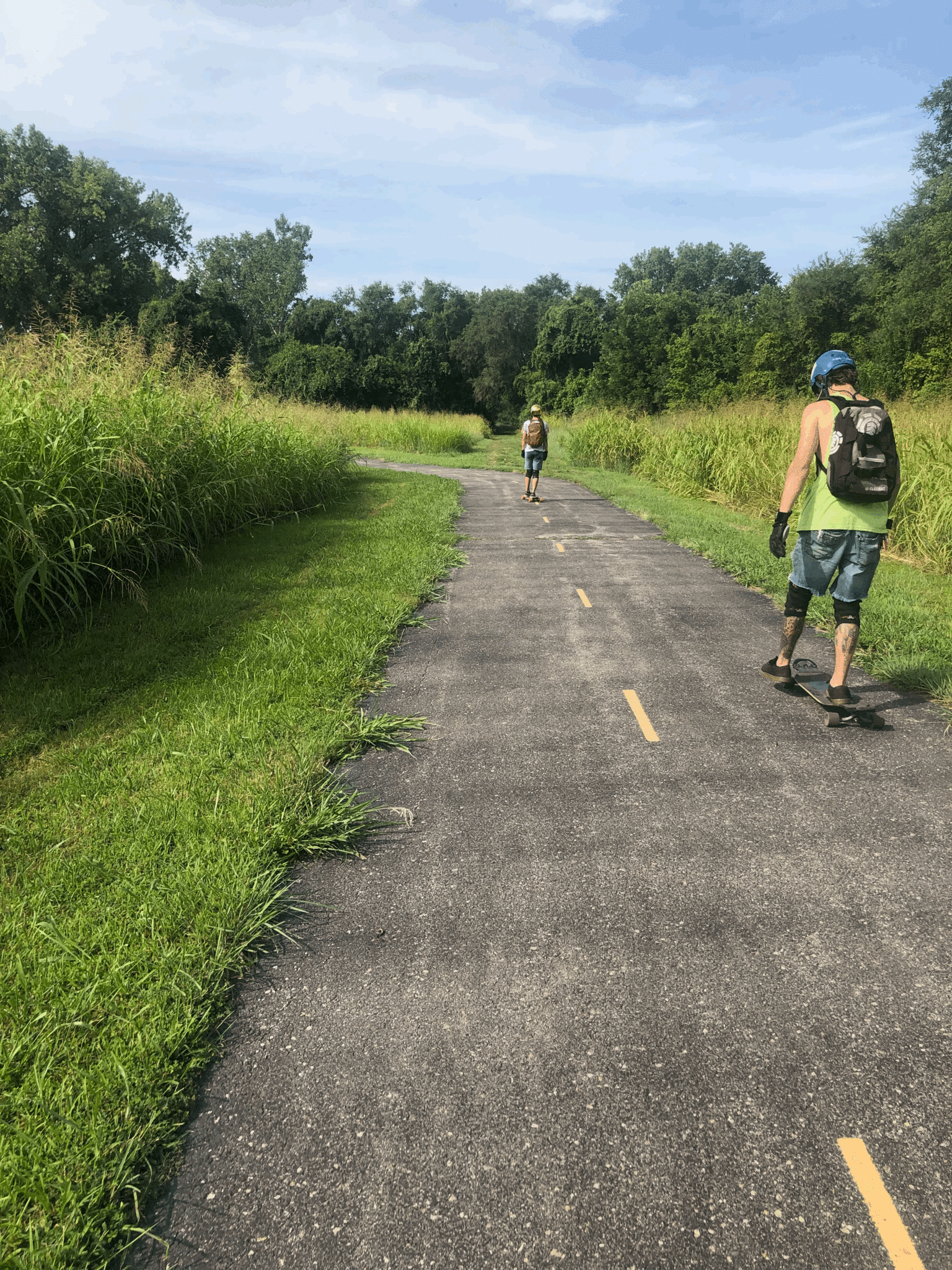 The long journey starts with a step. It continues only as long as it's intent remains unfulfilled.
10 years ago we started a journey.  The kick off for this journey began with a missing piece, a vision of possibility, unhindered enthusiasm, and a desire to serve.  
Missing Piece?  More like pieces.
At the time of our beginning, Kansas City had 3 Zumiez, two Street or traditionally focused skate shops (one of which did have a small selection of longboard brands and gear), and a few big box retailers that had some longboards. So really it wasn't that there wasn't a shop that had longboards, it's that these shops didn't care.  
They bought the cheapest things, from other companies who didn't care, to turn the maximum profit, for CEOs in other states to buy their yachts and second vacation homes.  They were ran for the goal, operated for the goal, and existed for the sole purpose of churning out half assed completes for profit.  They didn't care about the people experiencing these set ups.  They didn't care if you bought it today and never road it again.  They didn't care if you were having fun.  They didn't care if you bought a set up, and it wasn't appropriate for the terrain.  Their purpose was not to support the scene, their purpose is, was, and will be solely to turn a profit.  They don't care about where you skate, how you skate, who you skate with, or that their for "profit only ideals" actually hinder any type of positive influence that can be derived from this discipline.  They didn't care that they were willy nilly sending set ups out that couldn't operate in the conditions present.  You never skated with them, and they sure as heck didn't know enough to help anyone progress past the sub par equipment that adorned their shiny racks and stores.  There was no soul.  No vision.  No development of the hobby.  These are leaches.  There to serve shareholders, and faceless millionaires who don't even know that Kansas City is in Missouri.
These are companies who have never hosted, sponsored, or care to work with local leaders to develop events and contests.  These companies sell you product for a price point, then take your money out of your community never to be seen or heard from again.
A Vision We See
We see something different.  We know there is a different way, and we have stuck to our ideals and passion for 10 years, doing every thing in our power to survive and grow.  
Everything begins and ends with our community.  The community is made of people, organizations, and crews.  Our first and primary objective in our day to day operation is in service to the community.  That service takes many forms.  
A big one for us is the Stoke Clinics we have held every month for the past 8 years.  There are so many things that the Clinics cover, and it has become a core component to our service to the community.  People need a place to get started.  Our Stoke Clinics give new riders and potential riders a safe place to really find out if this hobby is for them.  The first things we cover with people is how to foot break, then how to carve and pump.  These core skills give the rider a firm foundation of skills that can be easily taught, and that give the rider a good gauge as to how they want to move on a set up.  Because we bring so many different set ups this really gives a great start to what kind of decks and styles of skating they want to get started with.  As a rider progresses at their own speed there are more advanced riders working on slides and getting used to going fast on different set ups that start further up the hill.  In this way the community really is responsible for people wanting to advance further than just kicking the board and carving it up.  The community really steps in for these more advanced techniques.  Most of these more advanced community teachers and engagers are from the Shralpers Union and are typically also Crew members.  It is a pretty magical mix of awesome to witness and be a part of.
Communities need fresh people coming in, they need different ideas and thought processes to add to the stew.  This keeps things fresh and constantly shifting around, adding flavor to the stew as it were.  Bad flavors tend to naturally work themselves out.  The next step in stirring this proverbial stew is testing the mix.  How does it measure up?  Are people engaged, where are they going?  How are they getting there?  Enter the contest, or event.  Where Stoke Clinics lay the foundation for a communities genesis and development, contests and events give the riders somewhere to put it to the test.  A knife does not get sharp by just cutting all the time, it needs to be ground against something to maintain and hone it's edge.  
This year (2022) our major goal for the year was to support and go to as many local events as we could hit. I am stoked to say we hit our mark in a most excellent fashion. Not only did we throw down our own, slide jams (Gooseneck Gala, Community Kickoff), push events (1st Push each month, Shralp and Camp), but we chipped in for the Spring Judy Meetup with the absolutely amazing MoLuv dudes.
The Spring Judy Meetup was not a contest per say, but what an amazing opportunity to help all the people that came to test their metal against Mount Judea really enjoy it without the need for chipping in more than they already had.  We got to give away a Pocket Change longboard, we got to hang out with dudes who have been around for as long as we have, and we got to introduce people to the next step in their skill development.  Contest, no.  It didn't need to be.  It was challenging, and amazing to get to skate.  Truly was an honor to be a part of, and I hope that we can help that event and location be developed further. 
We got to help sponsor the amazing Party at the Haven event.  This one was extra special on so many levels for the community as a whole.    This event was picked up and fostered by a newer rider in the scene Dakota Graves.  I see so much potential in this dude.  He did his best, and pulled off an amazing fun time through some unforeseen weather conditions.  He was supported by all the amazing riders that make up the heart of the MoLuv dudes, and just really solidified my love for that area and the next level of riding that is possible in that terrain.  Seriously of all the places in Missouri that are underrated by the greater longboard community, the Branson area is ripe with tasty lines and runs that could keep even the most gnarly of pros entertained and challenged.  
Speaking of underrated fun.  Let's talk about Battle in the Burg!  Pulling riders form Kansas City, St. Louis, and Branson, this event was picked up by one of the Stoke Crews newest riders Augustine Colon.  We got to help out by making the trophies, throwing in some prizes, and just slapping high fives all over the place. With a variety of styles present there was a slide jam, time trials, and a push race to test the riders that came out.  Augustine let folks camp out in his yard, and was just an amazing host to hopefully what will turn into an annual tradition.  I know that we will be a part of it, and can't wait to see where it develops in the future.
The whole year just culminated to the last local event we helped out with.  This event was in St. Louis, and really capped the whole year off.  The name has changed over the years, but this year it was called the ST. Louis Outlaw.  Really this was a whole weekend of skateboarding fun.  Friday night was a session at Sk8 Liborius , Saturday was AM runs at Eagle, followed by a sick Downhill race on a hill the locals call Buffalo.  This all culminated into a distraction filled hang out/after party/bonus session at the legendary Cooler BnB.  The next day, a bunch of folks even made it out to Kinetic Park, and got some pump track and skatepark action in.  The skating throughout this weekend was epic on a whole other level.  
The opportunity to help out at these events was our sacred duty, and fulfilled with pride, and love.  The amount of hard work the entire greater community put in this year was epic to be for certain.  The amount of new riders that came and skated their hearts out, combined with the not as new riders, supported by the peoples that have been around for close than a decade just makes this whole year and amazing testament to the talent, drive, and dedication everyone has for our state wide scene.  What an honor to be a part.
Our belief is that by doing everything we can to drive excitement and attendance to these events, gatherings, and meetups that our community will grow bigger and stronger.  By living our vision, and honoring our commitments in good faith then what could go wrong?
A Desire to Serve with Unhindered Enthusiasm 
We call ourselves the Stoke Company, not because we sell stoke, but because we sling it.  We want our actions to produce it.  We want not just Missouri and the surrounding states to be stoked, we want to stoke up the world.  
"Look at this!  Look at all this amazingness and talent, in a place one might think there isn't any."
If it can be done here then there is no reason with the same amount of work and dedication the rest of the world could follow suit.  There is no reason to be greedy, we just make the scene bigger and better.  There is no reason to be jealous of what we have built, you can build it too.  There is Room Enough for everyone, every person, every style.  Skateboarding is love, and everyone deserves love.  
We are stoked to serve, and I hope that it shows in everything we have done, and in everything we do.  We believe in this thing we are building.  We believe in the community that we have built, and the community we get to serve.  You guys are amazing!  
Thank you for helping us build this.  Thank you for being a part.  Thank you for letting us serve you.  We hope you are stoked.
Are you Stoked Yet?